12 ideas to help grow your small business using Facebook (part 1)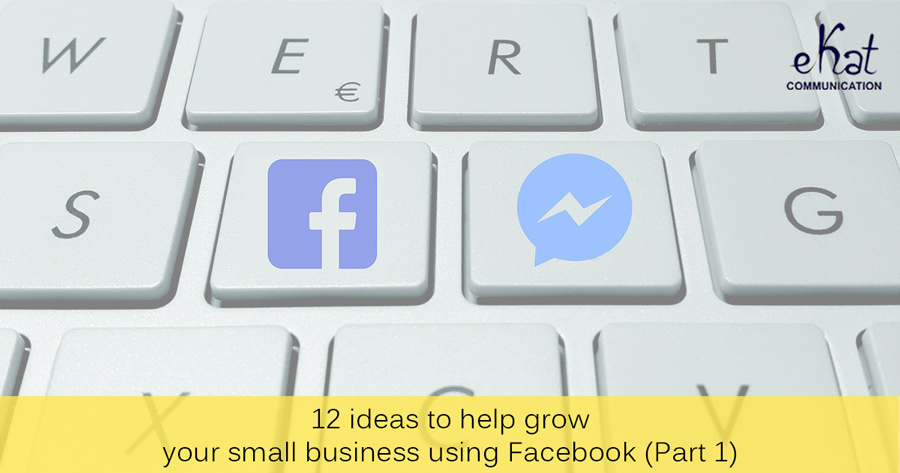 Facebook is the go-to social network for small businesses when they start promoting their products and services online. And it is no surprise as it offers numerous possibilities for entrepreneurs to find and attract their target audience. In today's post I will share 6 ideas on how you can use Facebook to help your business be more visible on social media, find and capture the attention of your potential clients and help you grow your business.
1. Create a company page
Anyone with a small business who wants to promote their activity on Facebook starts with creating a company page. So far, nothing groundbreaking. But I'd like to mention a few important points that will help you make the most of your company page on Facebook: 
Describe your company in detail (catchy About info, contact details, links to your site / online store, accounts in other social networks, working hours, address). When a visitor clicks on your page for the first time, ensure that you are making the right first impression by providing enough information about your company and its activities. Help visitors make an informed decision about working with you by providing easy access to your company description.
Choose a quality profile photo (your logo or a professional photo of yourself, depending on the kind of activities you do). Again, first impressions matter so make sure you come across as an established and trustworthy company – no sloppy artwork or portraits cropped out of a group shot.
Create an attractive Facebook page cover (featuring your product, illustration or stock photo and a very brief description of your business or an offer description). You can also use the cover image to promote seasonal offers, events or specific services as it is one of the first things visitors see on your page. Don't forget to optimise it for mobile too as 87% of Facebook users access it on mobile (source).
2. Create a group
Groups have a different purpose than company pages and can also help promote your business, although much more subtly and indirectly than a page does. 
Pages are usually named after your business (e.g. my company's Facebook page carries its name) and feature publications about it, its services, events, blog posts and other related content. While not all posts are promotional in nature, company pages are still seen by users as a communication channel specific to your company. There is also generally less interaction as you are the one publishing most of the content and any discussions only happen in the comments to your posts.
Groups are meant to be useful to their members and are dedicated to a specific topic or area of interest that the members share. If you are an interior designer, you could create a group dedicated to creating a better home where members could ask and answer questions, share decoration ideas and advice. 
As a group admin you would have to create some rules of engagement and initiate and facilitate the discussions but you would avoid promoting your business too much. You can of course occasionally share your blog posts, give out freebies or promote special offers, but it should be minimal and ideally related to specific questions being asked. Once again, a group is not your company's direct promotion channel so keep the two separate. Oh and don't use your company name as the name of the group, it's just bad taste and you will have hard time recruiting members – no one wants to have extensive discussions about your business… 
So make it all about your audience and what it needs. Use the group as a way to get your expertise known, create contacts and relationships and be genuinely helpful and friendly. This in turn will create a better reputation and help you get new clients. Follow the lead of my colleague Elissa Berthod of Favor the Bold Communications who created the Bold Diggers Mastermind group for creative entrepreneurs to help each other. Her group is friendly, compassionate and offers feedback, advice and support whenever someone asks for it. And it isn't all about Elissa or her company but about the members and their needs. Bold Diggers Mastermind is a great example of what a group should be like – join if you need a safe space to share your wins and frustrations on this exciting but also hard entrepreneurial journey.
3. Open a shop to sell your products
If you sell physical products, you can showcase them on your business page by adding the Shop tab. The top three products would be visible directly on your page when a visitor scrolls through it and the rest would be easily accessible through the tab list in the left hand side column.
While you cannot sell directly on Facebook outside the US, you can still have all your products featured on your page. Two options are available here, one for those of you only starting out, without an e-commerce site, and one for the sellers with one already set up.
1) If you are just making your first steps to sell your products online, there is an option to get potential buyers message you via Facebook Messenger about a specific product they are interested in. Once they get in touch, you have to manage the requests and orders manually.
2) If you have an e-commerce site, you can link your Facebook shop to the site for the check out procedure. The buying process therefore starts on Facebook but is finished on your own site.
For the best result, add a thorough description of your product, a beautiful photo or video, and the price. You can read up more about setting up a shop in this article by Facebook.
4. Add the Services tab
If you offer services, there is also an option for you to feature them on your business page to make sure your visitors understand the details of what you offer. Similar to the Shop tab, your top 3 services will be highlighted on the page itself above the publications with the rest accessed through the tab list in the left hand side column.
Specify a succinct name for each service (you only have 40 characters), set the price (optional), add a really punchy description (you don't get to say a lot as the space is limited to 200 characters, which is actually shorter than this paragraph!) and an attractive image. For the step-by-step instructions on adding the Services tab to your page, check out my blog post.  
5. Add the Reviews tab
Customer feedback and reviews can be very powerful in convincing your potential clients that you are right for them and may just be the tipping point in their decision to contact you. Who hasn't read TripAdvisor reviews of hotels or restaurants they were thinking of booking in order to make a choice? 
Ask the clients who are satisfied with your service to write a review on your Facebook page. A few raving reviews will help your potential customers trust you and make your business look more legitimate.
6. Create special offers
Do you have seasonal offers and discounts or special product/service packages? You can promote them on Facebook by creating an Offer. The easiest way to do so is to choose the Create an offer option at the top of your page where you normally write your updates.
This offer will appear on your page as a post and you can pin it to the top for enhanced visibility.
You'll need to determine the duration of your offer, discount percentage and code, add a photo or video and a full description of the promotion. Once published, you'll be able to also promote the offer by boosting it, like you normally do for other posts.
This ends Part 1 of the "12 ideas for using Facebook to help grow your small business" two-post series. Tune in for the second half at the end of April.
SaveSave