12 ideas to help grow your small business using Facebook (part 2)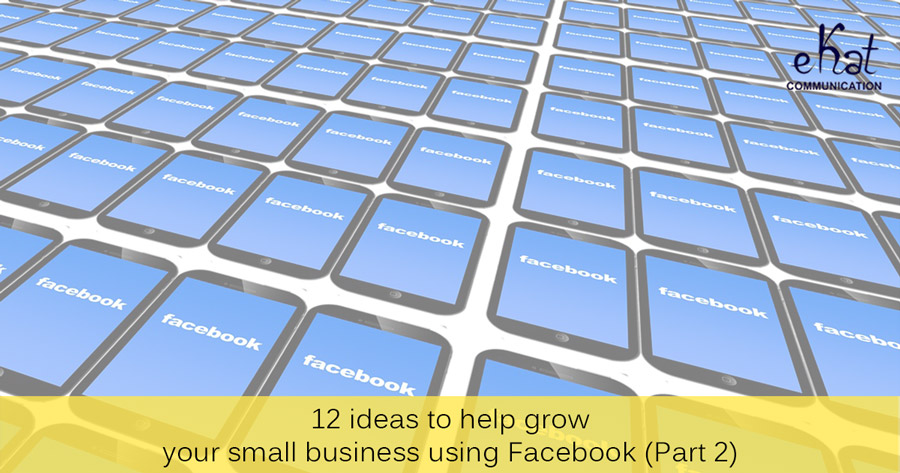 Today's post is a follow up to part one of the series where I shared the first 6 ideas for using Facebook for small businesses. I'll share six more with you to help you get the most out of the platform. Let's dig in!
7. Create events
Organising events is a great way to introduce your target audience to your business without being too pushy. They give you an opportunity to build long-term relationships with your target audience and stimulate its interest in your products or services, while actually not trying to sell anything directly.
You can host:
online events such as webinars, interviews, online auctions or product demos and
offline events such as workshops, seminars, open door days and themed evenings. 
Facebook events will display notifications for people who express their interest by clicking "Interested" or "Going" buttons. Use this feature to can keep your event fresh in their minds by occasionally publishing updates: information about the venue, ticket sales, speakers, programmes etc.
8. Promote your business through personal profile
By publishing information on your business page, you reach only your fans (actually, only a fraction of them). If you have an engaged following that interacts with your publications a lot (comments on or shares your posts), some of their friends will also see your information. Basically, by publishing something on your business page you can only reach people who already know you and are already interested in your activities.
To reach an audience that doesn't know you, without using Facebook Ads, promote your services and products through your personal profile. Try these two approaches:
Share information from your business page with your friends on Facebook by publishing it on your personal profile. But to do this is in moderation, since not everyone in your personal network is interested in your professional activities. Avoid alienating your Facebook friends through oversharing so use common sense and don't publish too often. Make sure to continue publishing updates about your personal life that have nothing to do with your business.
Share useful information from your business page in Facebook groups where your target audience hangs out. An important point: you can quickly get banned from groups for unauthorised promotion (read: spamming), so publications should be really relevant and helpful for the members of the group. 
Specific days are often reserved for member self-promotion, so be sure to read each group's rules of engagement before posting anything remotely promotional (your blog post, workshop announcement, sale etc) to avoid getting the opposite result.
9. Repost colleagues' publications (cross-promotion)
Most of us are wary of competitors, afraid that they may take advantage of us in one way or another if we start interacting with them. But in fact, we shouldn't be! It's possible to find a mutually beneficial arrangement for promoting each other, especially if their offer or target audience is slightly different from ours. 
So find common ground with your competitors and promote each other by reposting others' content. This way they can reach your audience and you can reach theirs – everyone wins! 
Let's say you are a graphic designer specialising in creating logos. You can occasionally share information about creating a website or business card published by colleagues. In exchange, ask them to share news about your events, blog entries and services. Just don't forget that to get some, you need to give some – be the first to bring value to your colleagues and they'll respond in kind!
10. Use Facebook Live video streaming
You can live stream interviews, presentations or master classes and make product demos using Facebook Live. Broadcasting allows your fans to ask questions or comment on what's happening in real time, which helps you build rapport and trust and prove your expertise.
Another advantage is that your fans will receive a notification on Facebook at the start of the broadcast. However, it's still better to notify them about the start date and time in advance, so that they can logon to Facebook at the right moment. For this, create an event to send reminders to participants.
Until recently you were only able to stream Facebook Live on mobile. In March 2017 Facebook Live for desktops was rolled out for all users so you can now get a better quality video by using your webcam and not your phone's camera. Word of caution though: if you have Safari or Mozilla browsers, you won't be able to use Facebook Live on desktop so use an alternative browser instead.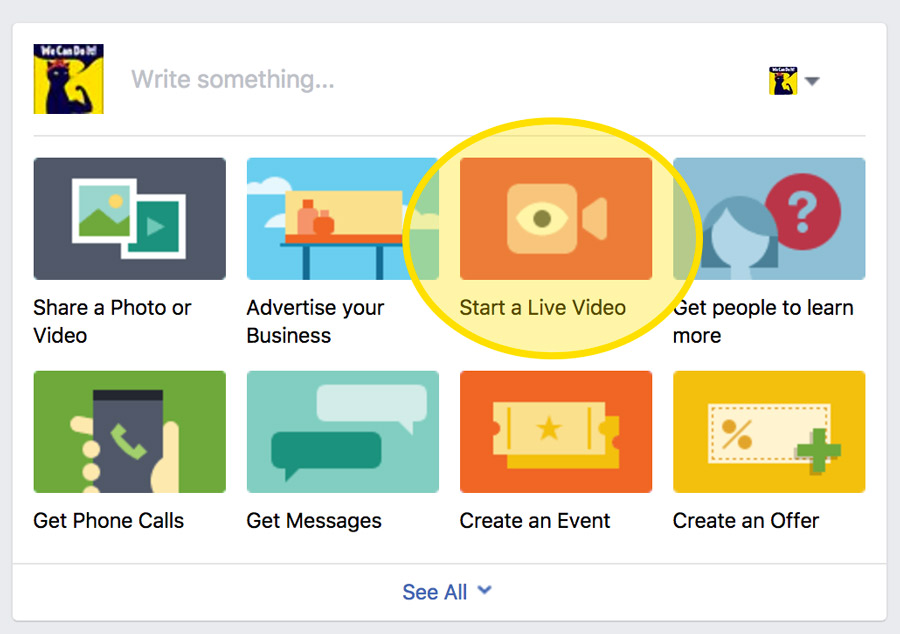 You can also stream live from the desktop by using a third-party streaming software like OBS, Wirecast and Xsplit. Here are step-by-step instructions on how to connect this type of software to stream live on Facebook.
11. Organise contests
To attract new fans, you can organise contests to win your product or service or get a special discount.
Contests can be simple e.g a prize draw. Ask participants to share your business page or comment on a publication in order to enter the draw. The winner is selected at random and is then advertised on your business page. Make it simple enough to enter the competition or people won't bother. We all have a very short attention span these days and complex instructions with multiple steps will be an overkill.
More complex contests may include questions to answer in order to win a prize. The winner is determined based on the amount of correct answers. For this type of contests there are apps you can use to create questions and analyse the results. Just look for "contest" in the search bar on Facebook and check out all the options in the Apps tab.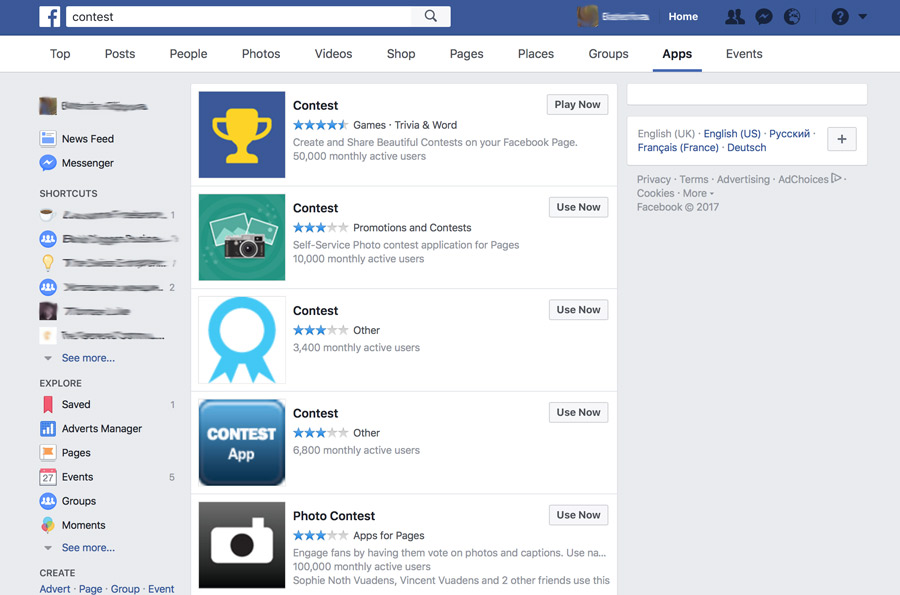 12. Promote with Facebook Ads
The very last tip for today is paid promotion using Facebook Ads. With its help, you can increase the reach of your publications, promote your events, online store or special offers on a relatively small budget (minimum cost for an ad is 5 CHF/day).
The beauty of Facebook Ads is that they allow you to reach any audience. You can set various parameters: location, age, language, interests, behaviour, profession etc to reach the people that matter to your business.
How many of these ideas have you already used for promoting your business on Facebook? Let me know in the comments below.