3 reasons to use Facebook messenger auto-reply function and how to set it up in 5 minutes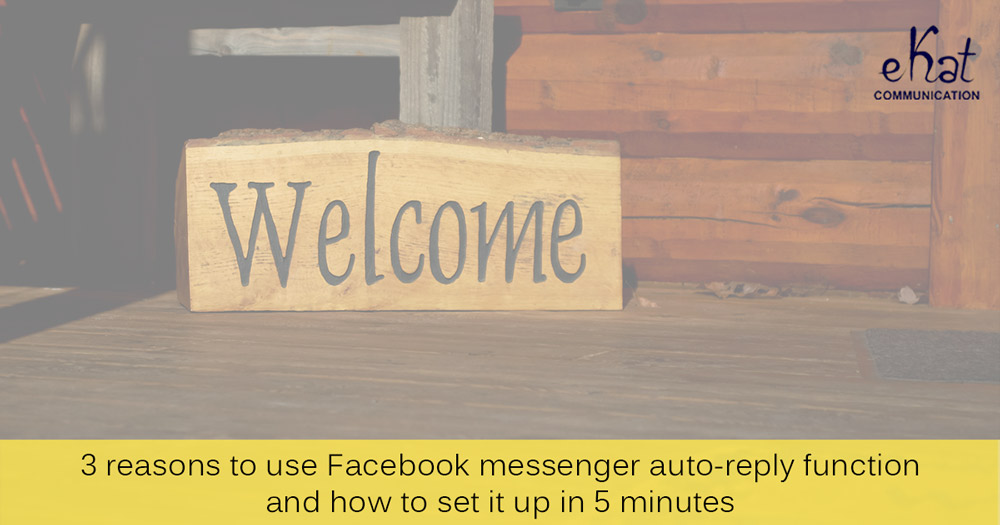 Do you feel like you have to constantly be online to provide good customer service and swiftly deal with inquiries coming through the Facebook page of your small business? It can be stressful as you feel under pressure to be always available and quick to respond.
But it doesn't have to be. Did you know that your Facebook page has a messenger auto-reply option that allows you to send automatic instant replies to anyone who contacts you? If you do know about it, are you using it?
If not, you should definitely start! This Facebook function is especially useful for e-commerce site owners who get frequent questions about their products. But really, any business that gets inquiries on Facebook via messenger can benefit from it. Here's why:
1. Remain responsive without constantly being online
Your Facebook page is evaluated on its responsiveness to messages. Your response rate and time are published at the top of your page for all visitors to see. As you can imagine, anyone considering getting in touch with your page will be more inclined to do so if they see a 100% response rate and a short response time – no one likes to be ignored! So maximise your chances of getting contacted by enabling Facebook messenger instant auto-replies.
When someone contacts you with a question about your offer or business, they expect you to get back to them quickly. You however may not always be able to reply to them within an hour due to being busy – with other tasks, meetings, family etc. What to do, drop everything every time you get a message or leave it unanswered for hours until you get freed up? Actually, you don't need to choose, you can use Facebook messenger instant replies instead!
What happens when you enable the instant reply option? A predefined response is sent confirming that the message has been received and will be dealt with shortly. The person who has contacted you is happy to see their message acknowledged while the pressure is off for you to reply immediately (of course, you still need to get back to them swiftly). You basically buy yourself time to craft a thoughtful reply when it is convenient for you, killing two birds with one stone.
2. Disconnect on holidays without ignoring inquiries
Even with the best of jobs and the most exciting businesses, sometimes we all need to take a break and enjoy some screen-free, relaxed time with friends or family. However, being a small business owner usually means having no one to cover for you while you are away and you may remain connected all throughout your holiday. But you cannot fully recharge your batteries if you are constantly on your laptop or iPad replying to inquiries sent to your Facebook page!
Here's where Facebook messenger scheduled "out-of-office" option comes in handy. You can create a special response for all inquiries sent through while you are on vacation mentioning your return date and any useful resources (FAQs, freebies etc) a sender may be able to check out while they are waiting for your proper post-holiday response. Once again, you get peace of mind knowing messages aren't being ignored while you enjoy your well-deserved break somewhere nice!
3. Promote special offers
As you can customise Facebook messenger auto-replies (you've got 250 characters), go one step further and also use them to promote any special offers you may have (percentage off for a period of time, 2 for the price of 1, special limited time only packages etc).
On top of the usual "We'll get back to you soon" message, add a short description of the offer and a URL to your landing page with a full description of the offer. This way, you everyone who comes in contact with your Facebook page via messenger will hear about the promotion, maximising your reach and hopefully sales.
How to set up and customise Facebook messenger auto-replies
Here's a quick video showing you step-by-step how you can set up and customise your own Facebook messenger auto-replies within minutes.
What about you, do you already use messenger auto-replies? If so, do you also use them for promotion or only for customer service?