Separating private and professional on Facebook – should you add personal profile to your business page?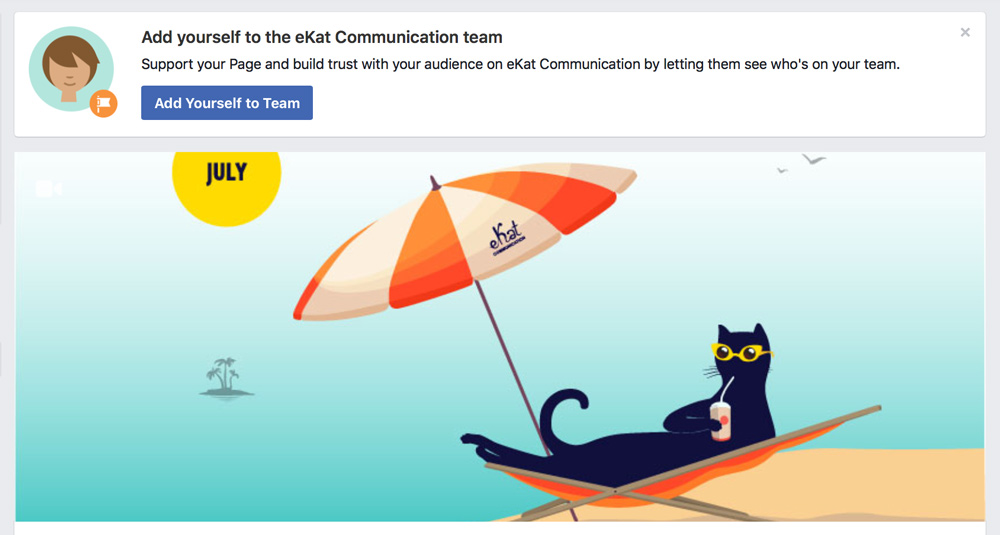 For a solopreneur, keeping your personal and professional lives separate is somewhat of a challenge, especially when it comes to promoting your business online. If you are active in Facebook entrepreneur groups, you use your personal profile to talk about your business and your personality comes across to others even before your business does. In a way, this is normal as we are the face of our business and our characters and ways of life influence whether or not someone would want to work with us.
Introducing team profiles on Facebook business page
In this post I will talk about a new feature on Facebook that would blur the private-professional line even further by connecting your personal profile to your business page. I have recently noticed a new pop-up message at the top of my Facebook business page that asked if I wanted to add myself to eKat Communication team:
I was curious, so I clicked on the button to read the explanation of what the new feature would mean: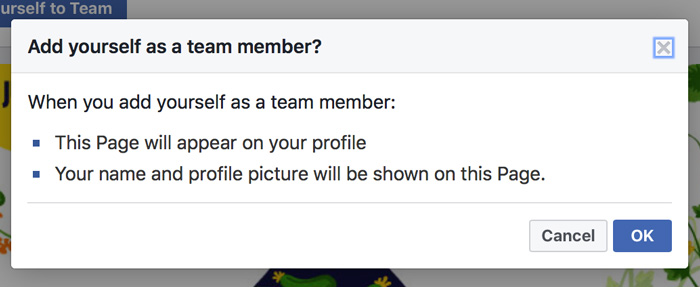 After some hesitation, I decided to add myself to the team so that page visitors can relate to my business on a personal level more easily. Why hesitate? While I deal with social media every day, I am still mindful of my online privacy and was not sure if I wanted to mesh my private life with my business even further. However, the advantages of doing this outweighed the concerns I had. I am going to address the concerns first as I suspect I am not alone in having them:
Your concerns
Looking less professional
I know what you are thinking (look of horror on your face): "Oh my God, random people will be able to visit my profile from my business page and check out what I am up to! And they will think less of me because they've seen my profile photo doing silly things/having fun with my kids/enjoying a night out with my spouse". Yep, that IS scary!
OK, let's get this one out of the way. Unless you are still at the stage in your life when you are likely to post inappropriate or compromising photos of yourself, you are unlikely to turn away potential clients with sharing a bit of your life. After all, we are all human and no one expects you to be perfect.
If you are really concerned about not looking professional by making your personal profile available on your Facebook page, there are two solutions to explore:
First, adjust privacy settings on your personal profile to the privacy level that works for you (check out Facebook's FAQ's for instructions on how to do it).
Second, post only what you are comfortable sharing with people you don't know so well or know only professionally. Yes, I know, this means actually thinking about what you post but filtering what you share can actually save you from a lot of grief later on.
You can no longer hide behind your business page (bummer!)
Ah, I can totally relate to this one. You may have a good "corporate" or company brand that you use on your website and on social media and it may even be recognisable and memorable. You are happy to let your work speak for itself and rarely share pictures of yourself on your Facebook business page or use your portrait in your communication (for the sake of full disclosure, I have been feeling this way too until now!).
BUT, people like to work with and buy from other people, not "abstract" businesses as they need to relate to another human. Personal brand is actually more effective in attracting the right kind of clients you would enjoy working with and can deliver the best results for. You can read more about the importance of your personal brand in a post by my colleague Elissa from Favor the Bold Communications. 
Benefits
Your business becomes more trustworthy
I don't need to tell you how the anonymity of the online world has helped all sorts of scams proliferate in the recent years. Anyone can create a Facebook page but what helps people's trust is seeing your name associated with your Facebook page. This shows them that you are a real, legitimate business with a real person behind it. Visitors will know straight away the name of a person they would be contacting when they send you a Facebook message and will have an idea what you look like. In absence of a possibility for a face-to-face meeting, this can be very reassuring, bringing potential clients one step closer to wanting to do business with you.
Your business is easier to find
Some of my best projects came as referrals from people who know me personally, on and off Facebook. And while visibility of my business page on my profile wouldn't have been the only reason they'd do that, I like to increase my chances by keeping it easily accessible.
I see some business owners who don't have a link to their business page on their personal profile and I am thinking that this could actually be costing them new professional opportunities. So if this is you, add yourself as a team member on your business page and your profile will mention the following: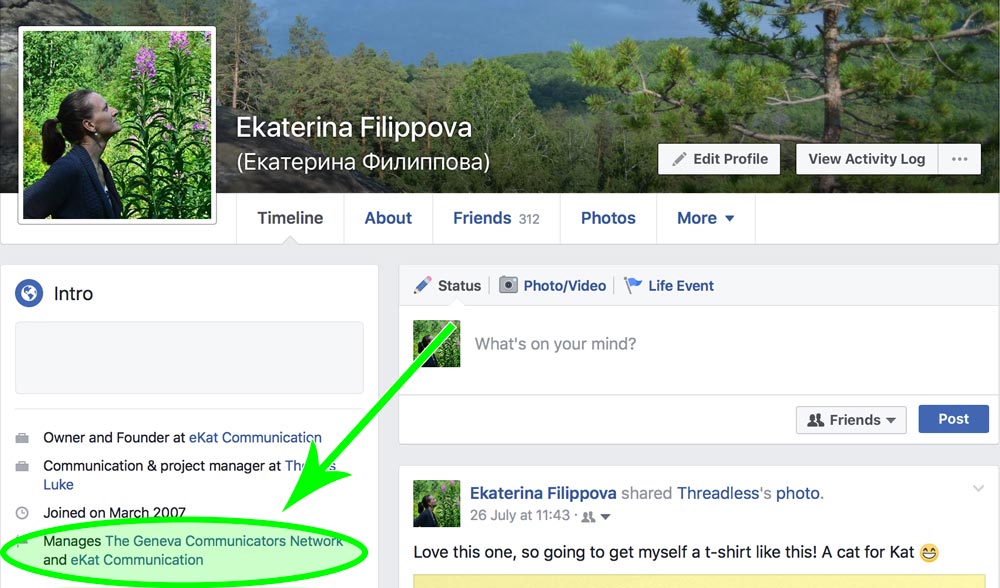 Conclusion
I hope that I have convinced you to not be afraid to interlink your professional and private lives by adding yourself as a team member on your Facebook page. Let your personality shine through a bit more in your business communication to help you find a connection with potential clients.