(1/2) How to go about branding your small business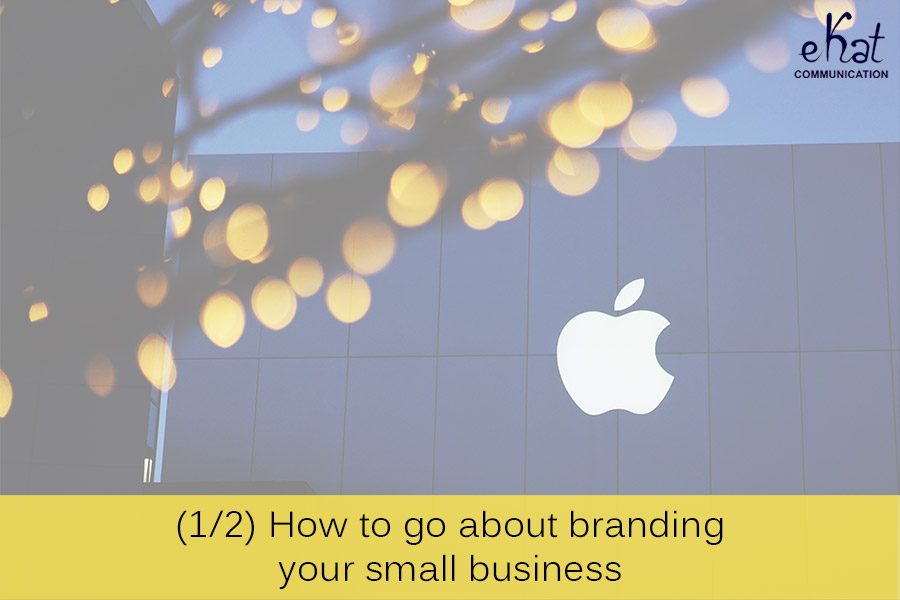 Think that branding starts and ends with designing a logo? Think again! Branding is about expressing the nature of your business, visually and verbally, in a way that attracts your target customers.
In this series I will break down the branding process into its building blocks so that you know where to start.
1. BRAND VALUES – what are they?
Before you start designing your logo or writing up a slogan, take a step back and think about what your brand values are. Brand values express the ideas, personality or characteristics that are important to you as a business and that you'd like to be known for. Do your products or services offer great value for money? Or are you more about exclusivity and luxury? Think about your company culture and what you want your customers to feel, think and say about you. Make a list and then narrow it down to 5 most important values.
2. BRAND VALUES – How can you define them?
Now that you know what brand values are all about, take some time to figure them out for your own business.
To help you get started, here's a useful article with a practical exercise along with some inspiration from 15 winning companies.
Need some help understanding and expressing your brand values? Contact us and let's chat!
3. LOGO – Types of logos to choose from
Unsurprisingly, your logo is one of the most important parts of your branding. Chances are, it is the first thing that your customers would encounter, forming their opinion of you even before they get to deal with you. Therefore, it's vital to get it right.
There are three types of logo designs to choose from:
LOGOTYPE or WORDMARK – logos that are essentially a company's name written in a custom font (think McDonald's, Coca-Cola and FedEx).
ICONIC – logos that only use simple graphics or symbols (think Apple, WWF and the Olympics).
COMBINATION MARK – logos that combine both a company name and a symbol (think Starbucks, Rolex and Playboy).
Decide which one is the most appropriate type for YOUR business and get creative!
4. LOGO – What makes a good one?
So you have an idea of what type of logo you'd like for your company, but how do you choose the best design out of the many options? Here's what makes a great logo:
It is APPROPRIATE to the nature of your business and reflects its personality and positioning (hint: don't use light colors and feminine fonts if you are a tattoo shop frequented by bikers ;)).
It SPEAKS TO your target AUDIENCE (so test it with a few potential or current clients to get their feedback).
It is VERSATILE and can be used in a variety of traditional and digital settings, on both small and big scale (think branded pens vs billboards).
It is SIMPLE and doesn't have too many distracting details (one emphasis or focus point is enough).
It is ORIGINAL and memorable (which helps you stand out from the competition in your industry).
Need help creating the logo that will make the right impression for you? Contact us for a free quote.
5. COLOURS – What meaning do they have?
Choosing the right colours is a big branding decision you will have to make for your business. For years, the psychology of colour has been applied in marketing to provoke a specific emotion or reaction in consumers. And while the perception of different hues is influenced by many factors including gender, age and culture, a generic interpretation of a colour's meaning can be made.
For example, in most Western societies red is associated with passion, energy and action. Blue is considered soothing, secure and dependable. Green is associated with health, nature, hope, freshness and calm. So choose the appropriate colour scheme for your business depending on the emotional response you aim to solicit from your target audience.
6. COLOURS – How to choose the right ones?
You may be tempted to use your favourite colours for your logo, website, business cards and other promotional materials. But think twice before doing that. The hues you like may not speak to your target audience or align with the nature of your products or services and your brand values (trustworthiness/superior customer service/friendliness etc).
If you are selling cute custom-made baby clothing, your best bet would be to avoid using dark shades like black, brown, dark grey; in the minds of your potential clients cute baby clothes aren't associated with these colours. However, if you own a bar or a night club, using dark tones would make perfect sense.
Check this out for some inspiration on the meaning of colours and their use in different industries.
Tune in to the second part of this branding series in December.
Not sure you even need branding for your small business? Let me convince you otherwise with "5 top reasons why your small business needs branding".