How to display your services on Facebook page in 5 minutes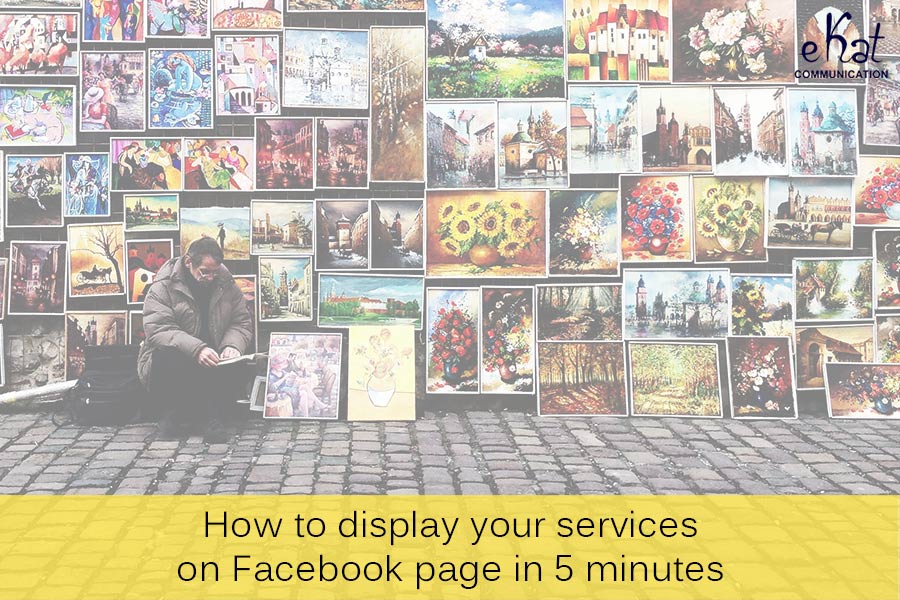 Are you a service-based business with a company Facebook page? Did you know that you can showcase all your services by adding the Services tab to it? What's more, you can also display the top 3 services directly under the header image so that it's the first thing your visitors see once they scroll down your page! Sounds good, right? 
I have to admit that I noticed this feature being available for my own Facebook page just the other day. I got a little excited to be able to improve visibility of my services to the first-time visitors so easily and now I'd like to share this discovery with you!
Here's a step-by-step guide for adding a Services tab to your business's Facebook page, all work done in under 5 minutes!
1. Add a Services Tab
The fastest way to add a new tab is by clicking on Manage Tabs button on the left hand side tab panel.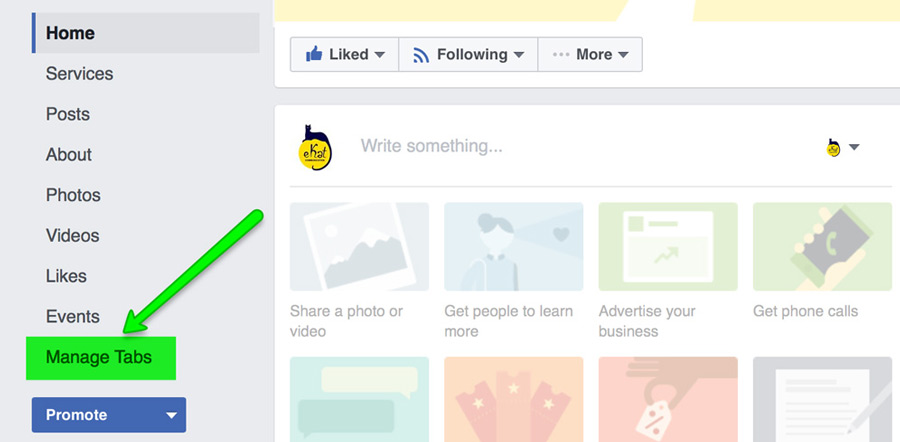 You will see the list of your current tabs as well as an option to add more tabs by clicking Add a Tab button.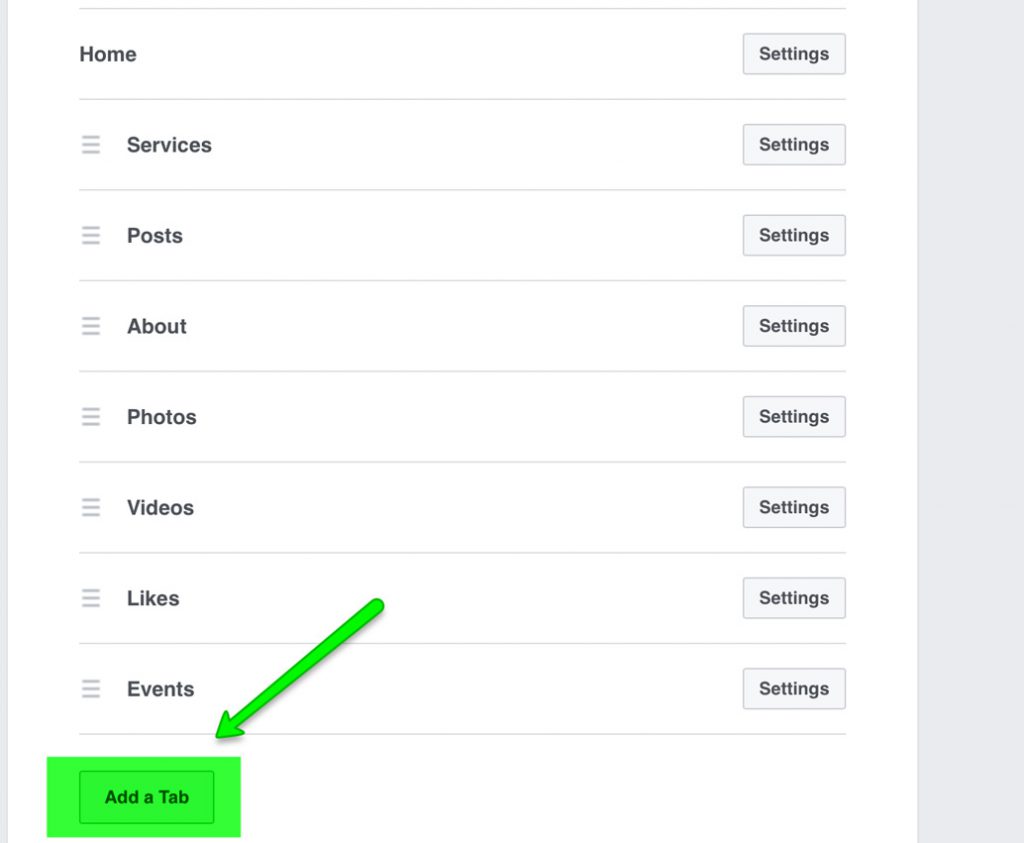 Choose Services and click Add Tab.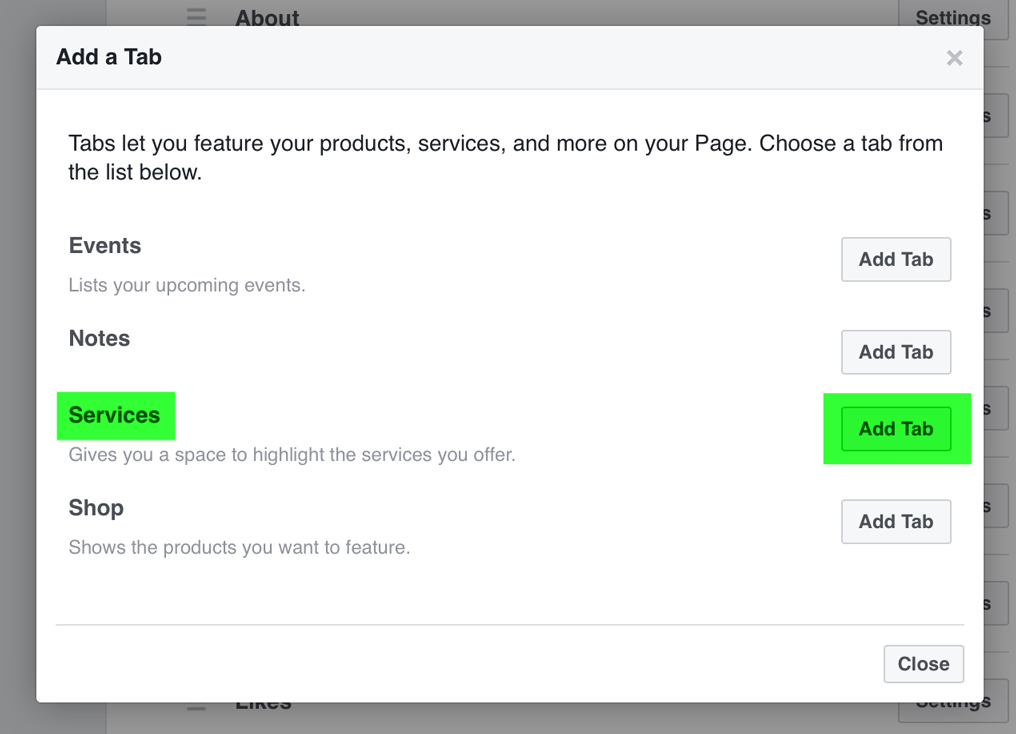 Tip: A new tab automatically appears at the bottom of the tab list but you can drag it all the way to the top. This will ensure that the Services box appears at the very top of your page, just underneath the header image.

2. Add your services
Go back to your page and click Services button on the tab panel. 
Click Add a Service and fill out the information (make sure to be brief as the space is limited):
Name of the service (max 40 characters) – mandatory info
Price (if applicable) 
Description of the service (max 200 characters) – mandatory info
Add a Photo related to your service (I would definitely advise to add an image here as it draws much more attention to your services.) 
Repeat as many times as needed.

3. Done! 
Now your page beautifully shows a selection of the top 3 of your services when a visitor scrolls down your page, which increases your chances of people contacting your for an offer.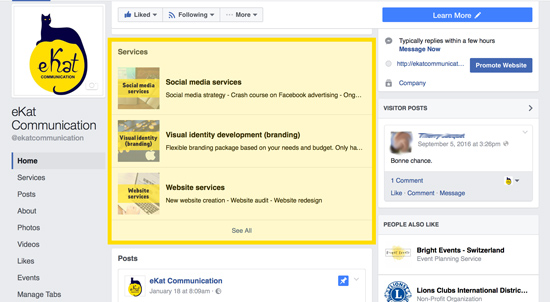 4. Examples
As I was looking for examples of other Swiss businesses using this handy Facebook feature, I was surprised to find only three that already have their services featured (and believe me, I follow a lot of local business pages…). Which tells me one thing: there is definitely room for improvement when it comes to making sure our potential clients know what we have to offer! Here are the guys who got it right:
Gimmemusic
Company that produces music for commercial use: media, cinema and entertainment.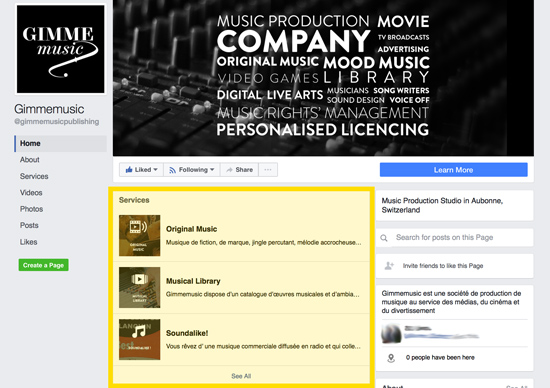 Mr Fix It
Skilled handyman, painting & gardening service covering homes from Geneva to Lausanne to Montreux.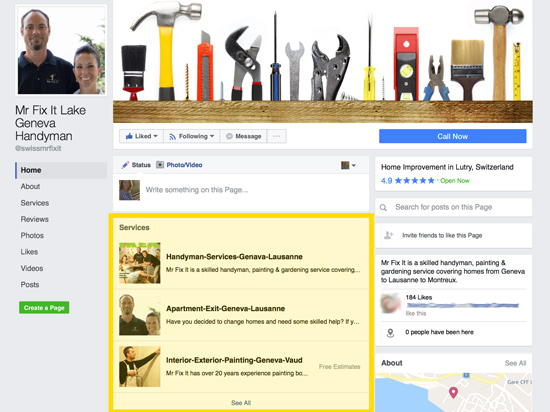 Ruskovilla
Organic and natural undergarments, hand made in Finland ethically and ecologically. Organic merino wool, pure silk and organic cotton.