Troubleshooting active Facebook Ads that don't show any results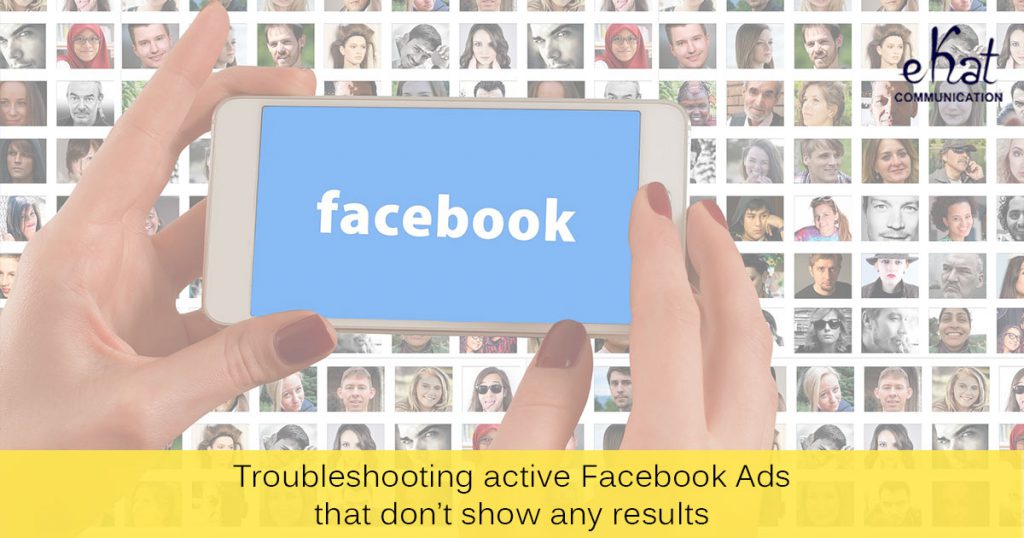 Earlier this month Facebook announced that they were combining Power Editor (ads manager for advanced users) and Adverts Manager (that most small businesses are familiar with) into one tool. The update was meant to simplify ads creation, combine reporting and avoid duplication of features. If you are interested in the details of what this change means, you can check the article "Facebook Ads Manager and Power Editor Combine Into One Tool" by Facebook Ads guru Jon Loomer.
This was a move welcome by many Facebook advertisers, but as all major changes, it didn't come without some bugs. Here's how I found out:
The issue with my active Facebook Ad not showing results
Yesterday I created a Facebook Ads for my upcoming seminar in Lausanne for the first time since the merge of the two advert tools. The ad was supposed to run starting immediately for a week and was quickly approved to run by Facebook. 24 hours later I log into the Adverts Manager and don't see any activity happening with my ad. Here's the screenshot:

It has never happened to me before and I was perplexed. I know that sometimes the system takes up to 12-24 hours to show you the results but usually you can see the reach going up much more quickly. Something was definitely wrong and I was determined to get to the bottom of it!
Here's what I've tried to troubleshoot the issue
At first I thought that my ad was actually not being served (shown to the target audience) so I looked for answers on Facebook Forums. I checked out Facebook's article "Why can't I see data or metrics for my ads?" but found no explanation to my issue. The article suggested checking some other troubleshooting steps to see if they help (and I suggest you go through these before trying out the solution I offer at the end of this post):
Checking if your ad campaign, ad set or ad is actually active (mine was)
Checking if you reached your spending limit (I didn't)
Checking if your ad was actually approved (yes, it was)
Checking if your ad was in fact scheduled for the future (mine wasn't)
You can check out full troubleshooting instructions about lack of impressions in the "Why is my ad receiving few or no impressions?"  article by Facebook.
Here's what else I've tried
None of these reasons explained why I wasn't seeing my ad being shown, so I tried to search online to see if someone has encountered a similar issue and found some kind of solution. I was surprised not to be able to find any mention of this issue being resolved in any blog posts and felt rather helpless and lost (and thought: "what a "great" Facebook Ads expert you are Kat, if you cannot figure this out for your own ads!"). Then I pulled myself together I started troubleshooting the issue myself.
First, I tried stopping the ad and recreating a new one by duplicating it. The copy was again quickly approved, but a few hours later the situation was exactly the same. Clearly something was off. Maybe the recent developments in advert tools were to blame??
Solution to Facebook Ads not showing any results
Since the merge of two advertising tools is a major change that is bound to bring about some issues, I decided that it may account for what was happening to my ad.
I saw that there was an option of reverting back to the previous version of the Adverts Manager (pre-merge with Power Editor) and decided to see if doing that would solve the issue. Here's what I did: I clicked on the Settings wheel in my Adverts Manager account and chose the option "Use the previous version of Adverts Manager":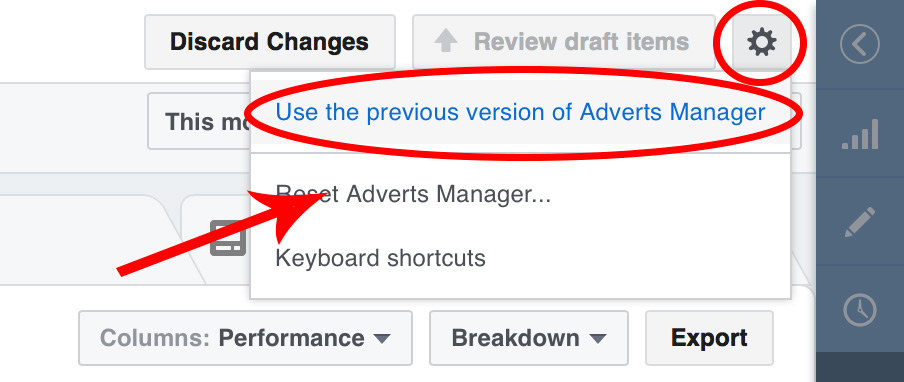 2-3 seconds for the system to update itself and voila, it did the trick! The ad was now showing the results – clicks on the link, reach, cost per click and amount spent. Woohoo!
Then I thought to myself: well, it's all good to be using the previous version, but at some point I would need to switch permanently to the new version that is here to stay, so that I can get the most of the new features. Feeling adventurous, I decided to revert to the new Adverts manager again by clicking on the link "Use the new version of Adverts Manager" next to my account name, hoping it wouldn't bring about the same issue again.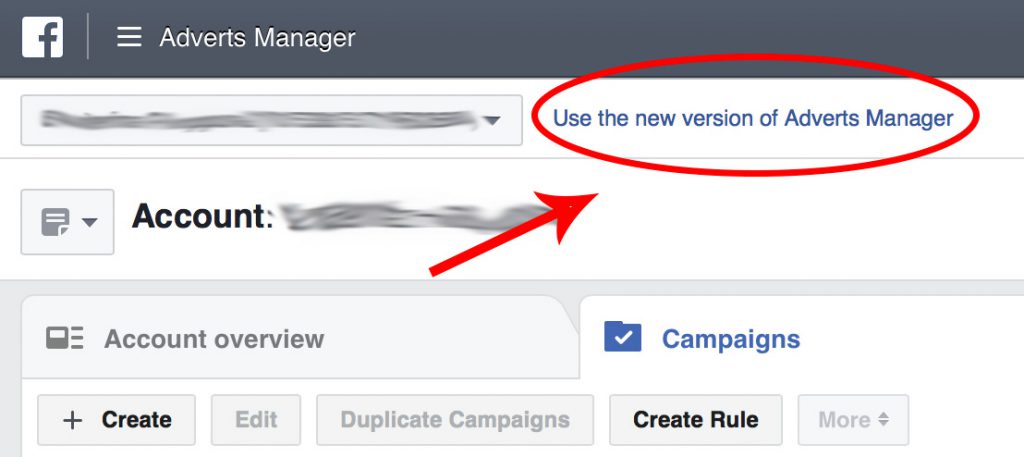 I saw with relief that the ad was still being served and showing the updated results even after I performed the above operation. So all was good again and I was no longer stressing out. And then I thought to myself: "Kat, imagine how someone else, not as familiar with Facebook Advertising would feel if they had this issue? You should write a blog post about this to help others who would otherwise be freaking out". So I did.
I hope it saves you some time and nerves figuring out your Facebook Ad not being served despite being active. If it does, please feel free to share with others who may encounter the same situation or sign up to my newsletter below to receive more helpful tips like this directly in your inbox!
Disclaimer:
The solution I offer in this post has resolved the issue with the Facebook Ads results not showing but I cannot guarantee that it works the same way for you (although I do hope it does!). It is definitely worth a try though!